Laura Vikmanis, a 42 year-old Cincinatti Bengals cheerleader –and mother of two competitive cheerleaders- is living proof that 'age is just a number'.
In fact, she would probably be the first person to tell you it's never too late to pursue your dreams or find happiness in life.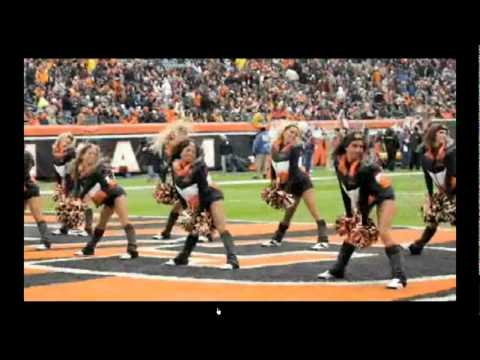 After years of splitting her waking hours between work as a a registered dietitian and full-time mother of two daughters, Vikmanis admits to having felt lost in her own life shortly after turning 40. Desperate to find happiness, she ran the gamut of new activities; trying everything from playing the drums, to taking a swing at golf.
It wasn't until she attended several NFL football games that Vikmanis found her inspiration.
In an interview with The Daily Mail, she shares, "I went to a couple games and saw the cheerleaders and though that looked really, really fun."
Shortly thereafter, the 42-year old cheer mom, Vikmanis, met another Bengals cheerleader at a dance class. It was here, she adds, that she realized her dreams of becoming a professional cheerleader may have been possible, after all.
"I really felt like I just needed to do this for me," remarks the Bengals cheerleader, Vikmanis.
So at 39, she finally decided to face her fears and tried out for the Cincinatti Bengals cheerleading squad. Despite making it to the final round of tryouts during her first attempt, she was not asked to join the squad.
The former dietician was passed up at her first professional cheerleading tryout and realized that she would have to step her game up, if she had any intention of solidifying a spot on an NFL sideline.
After being passed up at her first tryout, the forty year-old cheerleader hopeful spent the rest of the year focusing on physical fitness and at her second tryout, was finally asked to join the Cincinatti cheerleading squad.
After her second season as a Bengals cheerleader, Vikmanis – also the mother of two competitive cheerleaders- currently maintains leadership roles, both on the field and in the family room.
When asked about what it's like to have the NFL's oldest cheerleader on her squad, Tara Wilson, captain of the Bengals cheerleading squad, comments "[Vikmanis'] commitment to fitness, the self-respect she has…It's really been a great model for us."
When asked about her feelings towards becoming an NFL cheerleader after 40, Laura Vikmanis adds,
"I look at myself as a role model for my children to show them no matter what age or what dream you have, you can work really had and achieve it."
Share
About the Author
Related Articles
(3) Readers Comments